Making E-commerce Sustainable, In Partnership with the Invisible Company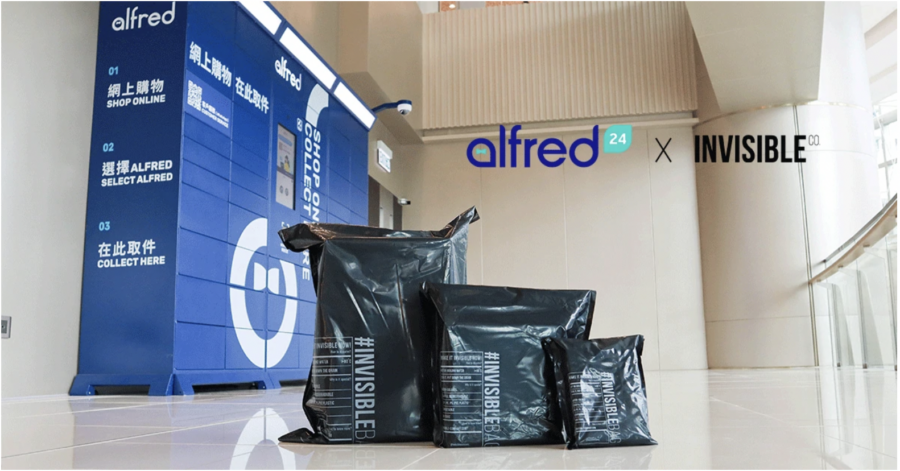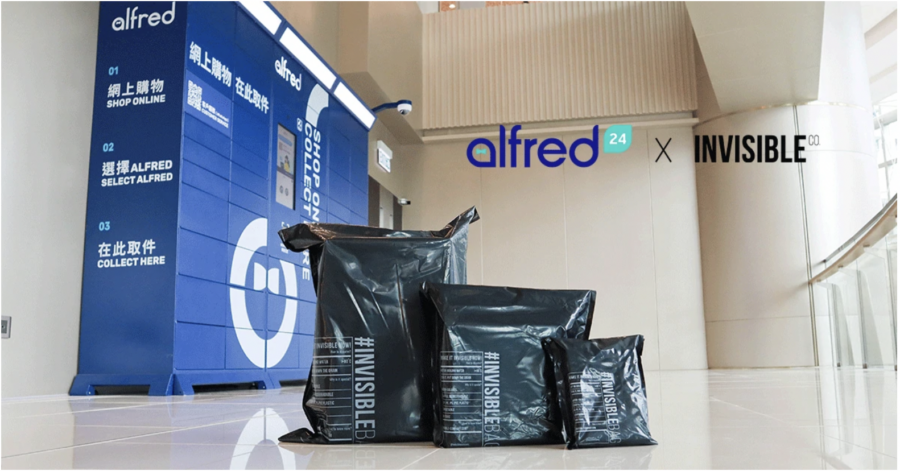 Sustainable Packaging. Smart Locker Networks. Deliveries Made Green!
Over the past two years many businesses have been hit hard by covid-19, minus one- eCommerce, which has undeniably boomed. However, this poses another new challenge. It has ultimately led to a significant increase in the global consumption of packaging waste, and un-sustainable production.
This is especially the case in Southeast Asia, which has been pinpointed as a region with tremendous potential for growth in the eCommerce industry. A recent research article by ERIA indicates that out of the regions 350 million internet users, 120 million spent US $23 billion on eCommerce alone in 2018, double the amount from the previous year and this trend is only looking to continue to move in the same direction.
This is a clear problem that needs solving, and that's where the Invisible Company comes in.
The  #INVISIBLEBAG is a water soluble packaging solution, proven to be non-toxic and leaves no harmful residue on earth. It is an alternative for manufacturers and brands to replace conventional plastic packaging.
This packaging solution, worked perfectly with our green last miles deliveries and The Invisible Company was a natural partner for alfred24 and our mission to make deliveries green!
A Perfect Partnership
Having previously trialed biodegradable packaging, now merchants have the option to use #INVISIBLEBAG when delivering a package, meaning that consumers can instantly dissolve their product packaging in hot water, or dispose of it knowing that it will never end up in landfill, polluting our planet.
Furthermore, in hopes of inspiring other companies and individuals to learn about eco-friendly packaging, we're offering incentives to our merchants, whereby we will subsidise some of the costs to support more businesses looking to go green.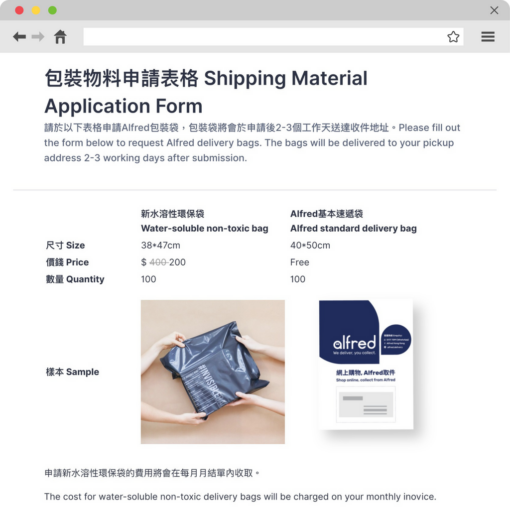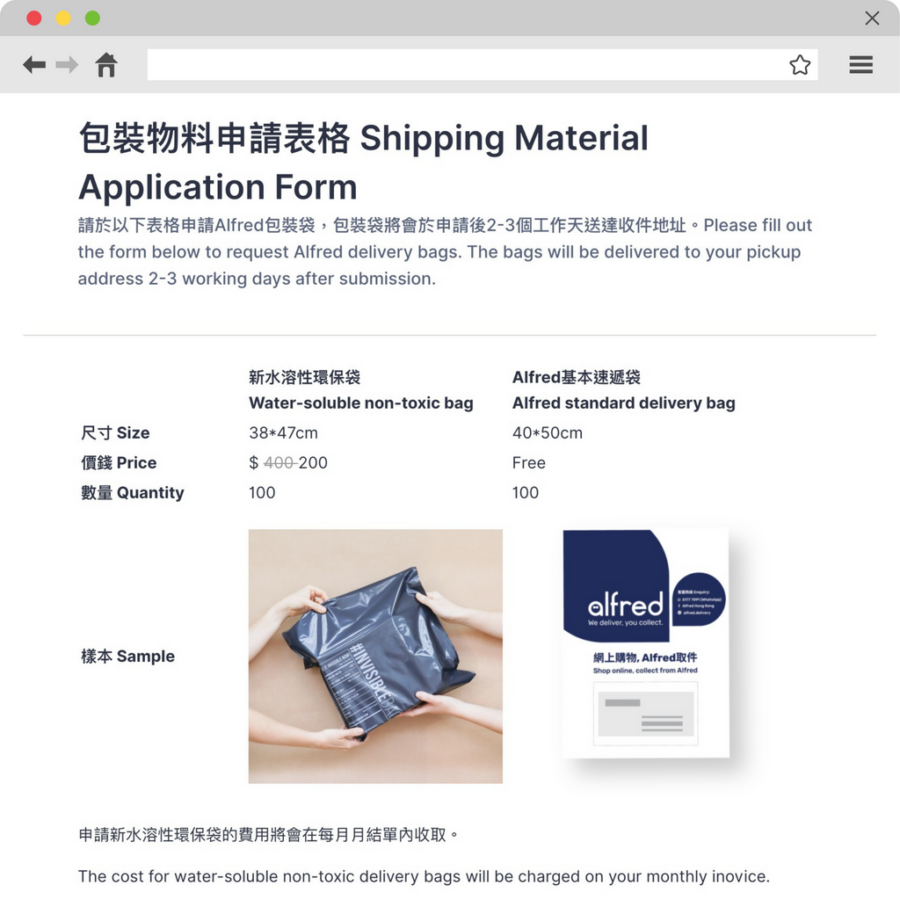 #INVISIBLEBAG Mailer options on the alfred24 Website
alfred24 clients can now buy 100pcs of #INVISIBLEBAG large size mailer bag for HKD $200, which would typically retail at $3.7 per bag.
Surging E-commerce Demand = Increasing Carbon Footprint
In 2019 alone, EcoBahn reported that more than 35 billion eCommerce orders were placed with online retailers around the world. These orders then require deliveries which typically use carbon dioxide emitting cars, vans and trucks.
Taking this into account on top of their own 1.5 million packages delivered last year, we calculated the carbon footprint and how much plastic packaging our customers were consuming, and knew that changes were necessary to make our business more environmentally friendly.
More importantly we wanted to highlight the impact to allow other businesses to follow suit.
There is only one world, and there is no competition in saving it!
Go Green with Us!
As there are many moving parts in the supply cain it's not always possible to have full control in regards to sustainability. In light of this, we focussed on the part of the chain that we can control otherwise known as the Last Mile, and created our sustainability initiative; 'last mile go green'.
For example, we offer merchants plastic-free packaging, delivery via electric vehicles and a sophisticated network of automated parcel lockers, enabling businesses and brands to play their part in reducing local emissions by over 35%.
Furthermore, as you all will know by now, by making purchases with us, customers are helping us reach our goal of planting over 3 million trees in the Philippines in our 'Alfred Forest', ultimately helping to offset carbon emissions.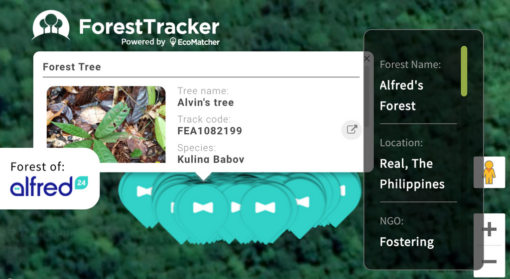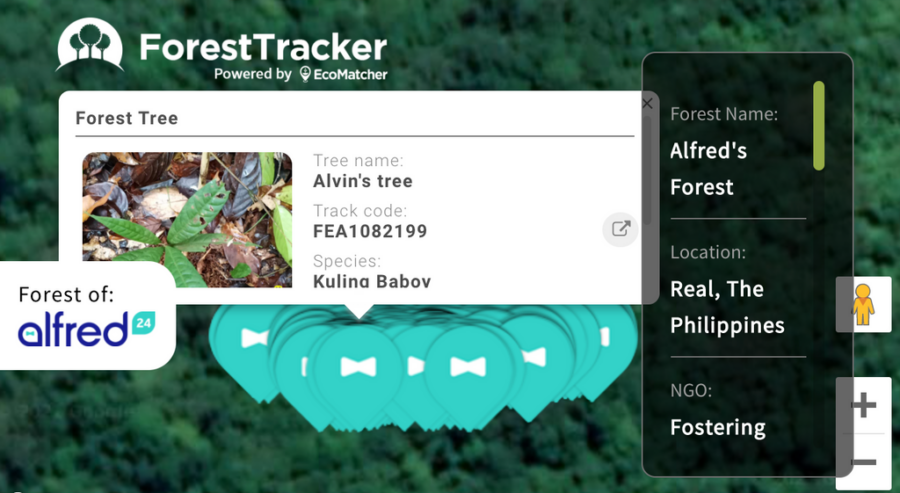 alfred24's Forest in Philippines to offset carbon emissions
Why are Lockers a Greener Option?
It's not common for delivery companies to go above and beyond to reduce their environmental impact. So we have quite a unique position in the market, but it is our locker network that is our unique selling point.
Our General Manger, Alvin explains:
"Let's say the daily package volume is 1,000. To distribute them within the locker network takes 4 vans whereas door to door delivery would require more than 13 vans, meaning that the locker network saves the carbon footprint of around 9 vans in total."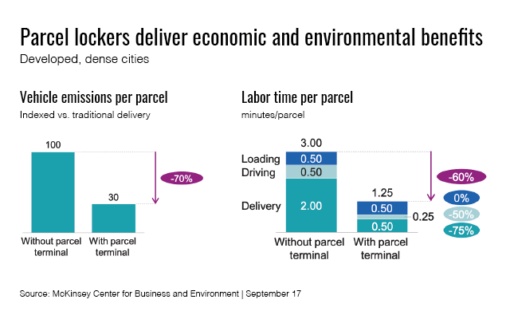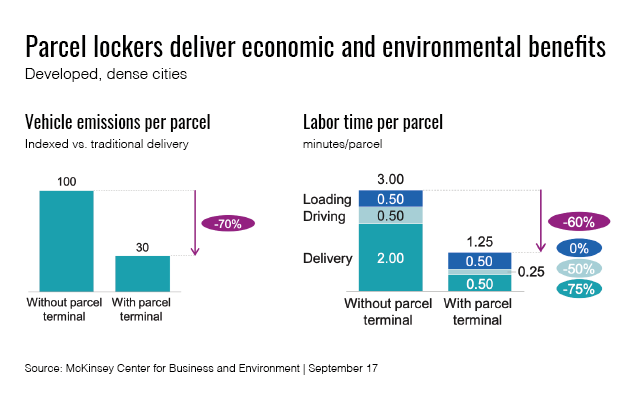 Parcel Locker's Benefit from McKinsey Report Sep 2017
Furthermore, a McKinsey report on future urban delivery in dense cities also suggested that the benefits of parcel lockers includes;  reduced vehicle emissions by up to 70% and decreased labor time per parcel by 60%.
Where to Find Our Lockers?

alfred24's Locker Collection Point at Nina Mall
By partnering with numerous couriers and convenience stores, such as 7-11, and by expanding our locker network to over 100 locations, efficiency is improved for delivery but also for the environment.
We have also pledged that by 2025, we hope to expand our delivery network to 1,000 lockers and fully adopt electric vans for last-mile deliveries, a value proportion we are currently trialing.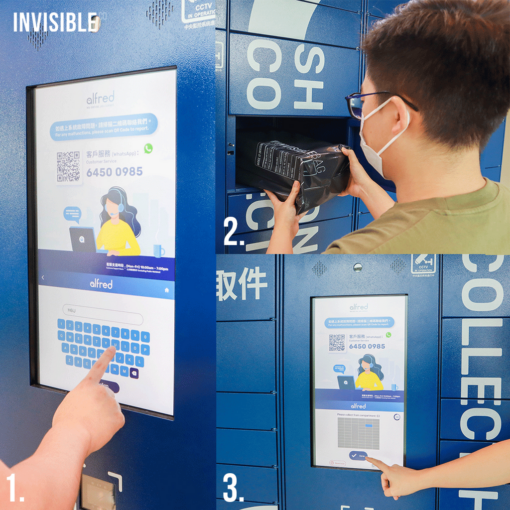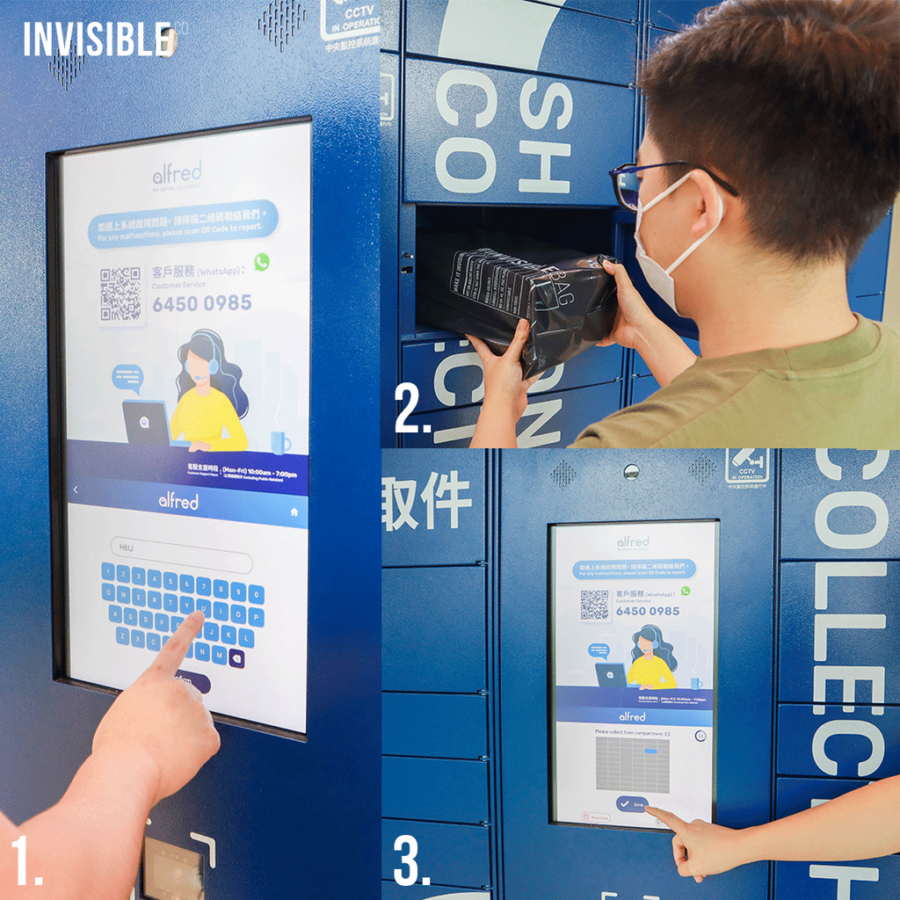 Easy, Smart Locker Parcel Collection in 3 Simple Steps
This hasn't been an journey so far, with challenges involving vehicle battery life, cargo capacity and operating costs have been faced, but we still believe that to be able to truly grow our company whilst minimising environmental impact, then extra costs and extra measures must be taken.
Find out where your nearest alfred24 Locker and select us for your next online delivery!
Don't forget to stay tuned to the latest news from us by following @alfred24.hk on Instagram!